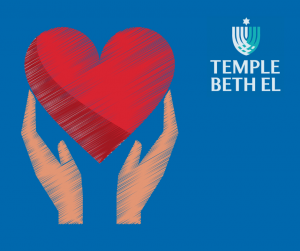 Hineynu promotes a strong and sacred community through thoughtful and meaningful acts of kindness that connect, nurture, and sustain our Temple family. In doing so, we seek to embody the Hebrew concept of hineynu ("We are here"). We are here not only to console one another in times of hardship, but also to support each other in times of need and to celebrate together in times of joy. Volunteers are welcome to participate in any of the following programs organized by the committee:
Congregants send hand-made cards with handwritten messages of celebration or support to congregants in times of joy or sorrow. Each message addresses the particular circumstances of the congregant(s): bereavement, illness, new baby, conversion, B'nei Mitzvah, new membership at TBE, confirmation, high school graduation, weddings, and 18th wedding anniversaries. Cards are created by a small group of artists whenever the supply runs low. The messages are written and mailed by a rotating roster of volunteers, who have been provided with texts appropriate to the occasion. In cases of bereavement, follow-up phone calls are made to grieving family members by volunteers trained by Jewish Family Services in how to listen to and talk with the bereaved and provide information about or connections to resources for additional help as needed.
Meal Train is a web-based way of providing meals to members of our TBE community in times of crisis or difficult life circumstances. When it comes to a rabbi's attention that a congregant needs this service, the rabbi contacts the Meal Train organizer, who then contacts volunteers for this mitzvah and sets up a calendar for meals and delivery. Family and friends of the person receiving meals can be added to the request for meals.