Sh'mini Atzeret/Simchat Torah: The Joy of Torah
Sh'mini Atzeret is a celebration that occurs on the eighth day (sh'mini means eight, atzeret means celebration), the day following the seven-day holiday of Sukkot. Simchat Torah in Hebrew means "the joy of Torah." Israeli Jews and Reform Jews celebrate and recognize these holidays simultaneously by reading the last passage and first passage of the Torah. At Temple Beth El, we unfurl the entire Torah scroll in the Sanctuary and celebrate with our youngest learners. The High Holy Days culminate with a joyful celebration of learning. We wrap ourselves in the teachings of the Torah and the ultimate questions it poses to us about how we will move into the year and live our lives more fully.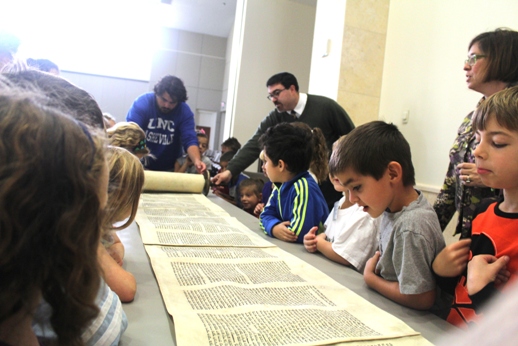 Simchat Torah Event Schedule
CONGREGATIONAL SIMCHAT TORAH BRUNCH & GATHERING
Sunday, October 16 @ 9:00am at David Silverman Social Hall
Religious school parents and congregants of all ages are invited to eat, schmooze, and relax over brunch before our Simchat Torah Celebration and Consecration at 10:00am. Religious School students will be with their classes for this hour. Register by Wednesday, October 12.  
RELIGIOUS SCHOOL SIMCHAT TORAH CELEBRATION & CONSECRATION
Sunday, October 16 @ 8:30am at Blumenthal Sanctuary
Religious School students and families will come together to celebrate Simchat Torah in the sanctuary. Celebrating the Torah is the perfect time to honor those children who are beginning their Jewish education in our Religious School with a blessing of Consecration. We will also honor those who became b'nei mitzvah this year with an aliyah to the Torah.
TOT SIMCHAT TORAH
Monday, October 17 @ 9:30am at Levine Social Hall
FESTIVAL MORNING SERVICE WITH YIZKOR
Monday, October 17 @ 10:30am at Archer Chapel