City of Charlotte Municipal Elections
Tuesday, July 26 from 6:30am-7:30pm
We got through the May 17 primary, so nothing else to do until Election Day on November 8, right? Wrong! City of Charlotte residents – we have a municipal election on July 26, 2022! Polls will be open from 6:30am-7:30pm.
Mail-in ballot portal open now!
June 26 – Mail-in ballots will start to be mailed out
July 1 – Voter registration deadline
July 7 – Early voting/same-day registration starts (check your county board of elections website for locations and hours)
July 19 – Deadline to request a mail-in ballot
July 23 – Early voting/same-day registration ends
July 26 – Election Day and all mail-in ballots must be postmarked

Confirm your voter registration:
The Reform Jewish Movement's 2022 Every Voice, Every Vote Campaign is a nonpartisan effort, grounded in our Jewish values and commitment to racial justice, to strengthen our democracy by encouraging and protecting voter participation.
Want to participate in RAC's EVEV Campaign?
Send some GOTV (Get Out the Vote) postcards to usually overlooked voters. We are planning some group post-carding opportunities, but you can also start doing this on your own. Begin post-carding with the Center for Common Ground's Reclaim Our Vote campaign and request sets of 25 postcards.
Questions? Want to get more involved? Contact Jill Blumenthal.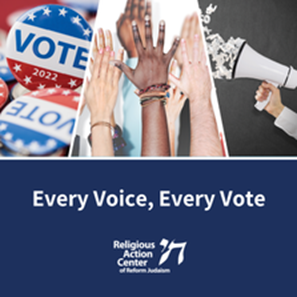 Check to see if you are registered to vote and if you are not, register online today. See the links below for the Board of Elections for Mecklenburg, Union and Cabarrus counties. Helpful tip: You don't need to be 18 to register. You just need to be 18 by November 3 to vote.
Confirm Your Registration
Have you moved recently, or are you voting again for the first time? You can check your registration and even register to vote here. (It is a good idea to do this even if you think you are already registered to vote).
Information About Serving as a Poll Worker
Useful Information On Voting
You can track your absentee ballot's status by registering for North Carolina BallotTrax
To submit your ballot, you can physically deliver your ballot to your county's Board of Elections office or mail in the ballot. Click here for USPS Election Mail information.
Remember it is a felony to vote more than once. Read about it.
On Election Day, you may deliver your mail in ballot to your county Board of Elections office or get it postmarked at the post office by 5 PM.  Don't take your mail in ballot to your Election Day polling location.
If You Encounter Any Issues With Voting
Be an Informed Voter! Resources to Learn About Candidates and What's on the Ballot:
Resources will be updated pending future elections.