Spread the Love: Opportunities to Share Gratitude
#DonateLikeDusty Blood Drive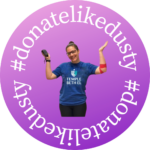 Honor Rabbi Klass and do a mitzvah at the same time by doing one of her favorite things: donating blood! Join us on Sunday, May 15 from 9:00am-2:00pm for a blood drive in partnership with the Levine JCC as we #DonateLikeDusty.
Baked With Love: Contribute a Dessert or Challah for Shabbat Dinner
We know Temple Beth El is blessed with many talented and generous bakers. While we will have dessert and challah available, if you would like to bake something special – either a sweet dessert or a tasty challah – to honor Rabbi Klass, please click below.

Questions? Contact Jill Blumenthal or Janet Lefkowitz.
Thanks for the Memories: Share Your Message for Rabbi Klass on Kudoboard
We have created a Kudoboard for Temple Beth El congregants to add their favorite memories and notes of gratitude to Rabbi Klass. Share words, photos, videos, and even GIFs on this virtual board that we will share at the May 20 Shabbat dinner and print for Rabbi Klass as a token to remember us by.
For those unable to join us on May 20, contributing to the Kudoboard is a great way to show up in spirit. (Note: entries are public and can be viewed by other congrergants). 
Other Ways to Honor Rabbi Klass' TBE Legacy
If you are unable to join us on May 20 or are interested in other ways to honor Rabbi Klass's time at Temple Beth El, please consider donating to the Youth Engagement Fund.
Under "Donation Type," select "I wish to donate to a specific fund below."

Select "Children and Youth"
Select "Youth Engagement Fund."