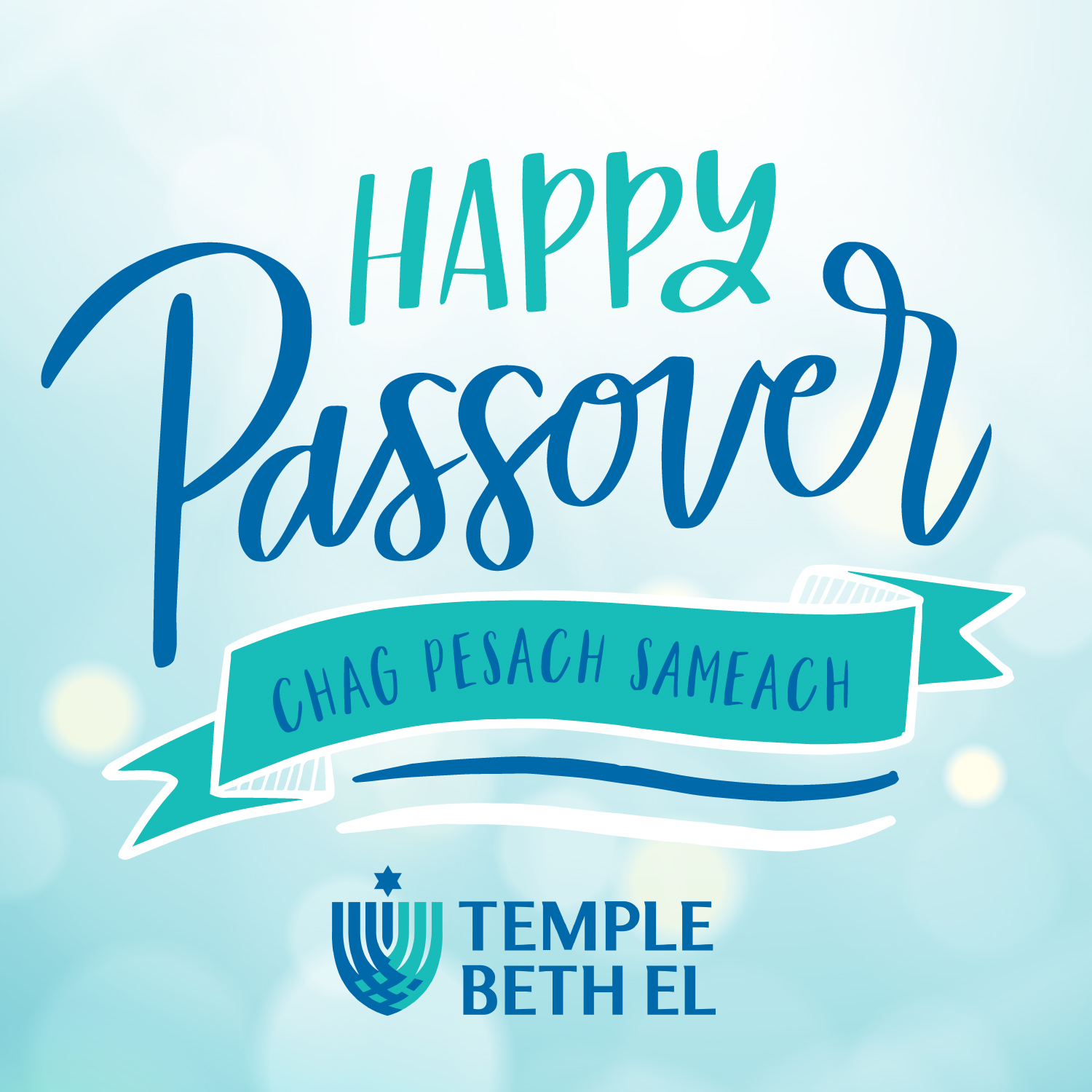 Wednesday, April 5 - Thursday, April 13
Join us at Temple Beth El as we celebrate Passover 2023. We invite you to reflect on the blessings of family and community and reflect on the meaning of Passover at our special holiday events. See our event schedule below, as well as a variety of Passover resources our clergy has compiled to help you and your family celebrate.
Celebrate passover with your fellow congregants by joining us at one, a few, or all of our special Passover events. Please register to attend events (if applicable) so we can plan appropriately.
Passover Opportunities to Celebrate
Red Sea Ramble: Hike with Rabbi Knight
Thursday, April 6 at 10:00am | James Boyce Park (Walk-Ins Welcome)
Work off the matzah and enjoy this opportunity to connect with the spiritual significance of the Passover. As we enjoy the fresh air and some exercise, we can also reflect on the blessings of family, community, the abundance of the earth, and gain a deep understanding of the meaning of Passover and its relevance to our lives today.
Second Night Seder for Families with Young Children
Thursday, April 6 at 5:00pm | Temple Beth El
Your family is warmly invited to join Temple Beth El and The Porch Families with Young Children Seder, geared toward families with kids (infants through second grade). We will sing and laugh our way through a fun and kid-friendly Seder meal. The menu will include: matzah ball soup, roasted chicken, tzimmes, a green vegetable, salad, dessert, white grape juice, water, and coffee. Grandparents and other loved ones are welcome to join. Please feel free to BYO wine to share. Register by Monday, April 3.
Thursday, April 6 at 6:00pm | Temple Beth El
The entire Charlotte community is invited to join us for a multi-generational, traditional Passover Seder. Share an evening filled with wisdom, music, the warmth of Pesach, and your Temple Beth El congregational family. A complete Seder meal will be served including matzoh ball soup, chopped liver, charoset, gefilte fish, brisket, baked chicken, tzimmes and kugel. Register by Monday, April 3.
The Porch Post-Passover Pizza Party!
Thursday, April 13 at 6:00pm | Pizza Peel - Plaza Midwood (1600 Central Ave)
Are you counting down the minutes to carbs like it's pages left in the Haggadah? Join The Porch for loaves of fun at our Post-Passover Pizza Party! This event is for young adults and young couples to come together for fun and lots and lots of carbs!
This event is BYOC (buy your own chametz). We will have tables saved – just place your order when you get there. We kindly request that you register so we can have appropriate space. Don't "Passover" this great event!
Register by Tuesday, April 11. Walk-ins welcome.
Pre-Passover Community Events
Tuesday, March 28 at 6:30pm | Temple Beth El
Our tradition continues: the TBE Brotherhood is proud to host the 2023's Men's Seder led by Rabbi Asher Knight. The cost is $20 per person for this five-star dinner, but the experience is priceless. Male guests, including adult children (ages 13 and older) and non TBE members are welcome to attend. Feel free to bring your own favorite wine. Registration closed.
Sunday, April 2 at 11:00am | Temple Beth El
The Women's Chocolate Seder is open to all the beautiful ladies in the TBE community! Join The Spice Girls TriBE for an Exodus of chocolate proportions where we rediscover how truly sweet freedom is! All attendees will also get a 20% off discount at The Discovered Traditions Gift Shop. Cost: $10 – This includes all the chocolate Miriam ever dreamed of, a light lunch, wine, and more chocolate! Hosted by The Spice Girls TriBE; Powered by Jewish Federation of Greater Charlotte. Registration closed – this event has hit capacity. Please call 704-366-1948 to join the waitlist.
Shop for Passover at the TBE Gift Shop
New Passover items are arriving daily! We've got everything you need to set a beautiful Seder table and keep the whole family entertained! Check out our collection of seder and matzah Plates, Elijah and Miriam Cups, kitchen and tea towels, greeting cards, kid's toys, books, crafts and games, a lotta' Haggadahs and an alarming number of frogs. You'll also find the perfect gift! Hurry in for the best selection!
Passover Activities & Resources
An enchanting tale of a 6-year old Cherokee boy and a 3500-year old Jewish woman on a journey towards hope.
Give Passover an International flare with seven classic and modern charoset recipes for your seder plate! We doubt you'll be able to wait!
Mimouna Recipes For The Post-Passover Moroccan-Jewish Festival
As the instructions say, "Make the millennial who doesn't remember Rugrats ask them."
Mimouna Recipes For The Post-Passover Moroccan-Jewish Festival
As the instructions say, "Make the millennial who doesn't remember Rugrats ask them."