On Tuesday, April 27, Temple Beth El kicked off our 2021 listening campaign, "From Social Distance to Social Justice," with an hour-long online meeting bringing together almost 150 congregants. For those of you who were able to attend, thank you for being part of an important and impactful evening. We asked everyone to share their experience of the pandemic in six words or less, and this is what we heard: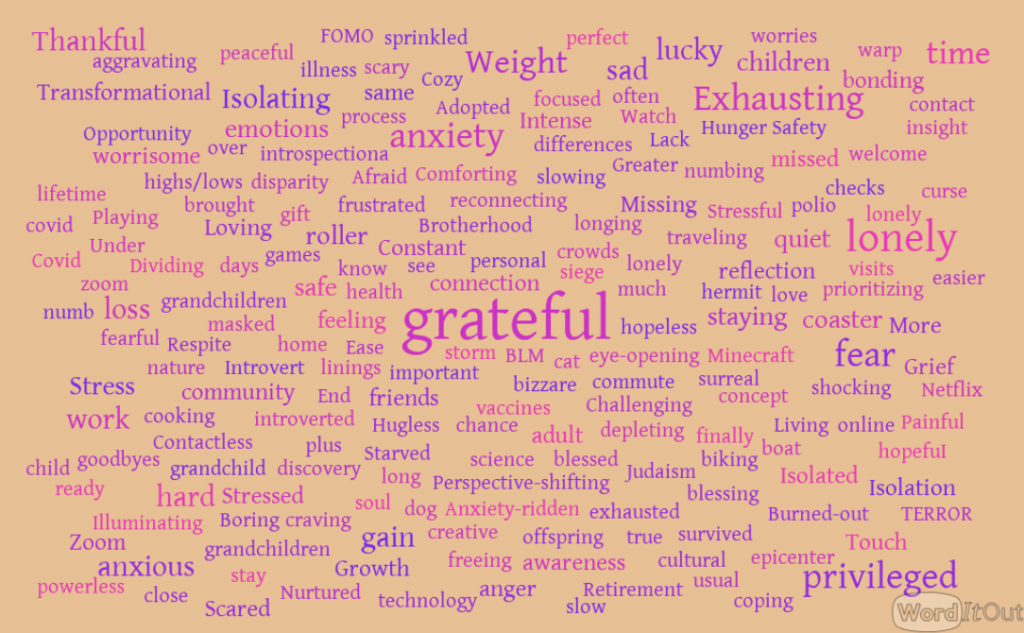 If you were unable to join us on Tuesday, but want to share in the important and impactful evening, you can watch the Listening Campaign Kickoff Video.
After a year that has truly been like no other, it is time to begin the process of healing and reconnecting – both within our congregation and with our greater community. This listening campaign will: 
B

ring 

congregants 

together

 to 

share stories

 and begin to 

process their pandemic experience.  Through these stories, we will identify issues that matter to the congregation.

 

E

nsure that your voice

 is

 included

 as we learn together what 2020 has taught us and how those lessons might 

inspire us to build a better community

 – both internally and throughout Charlotte. 

 

Help us 

develop a shared vision for how to address the issues we care most about in our greater Charlotte community

. 
Over the next two months, we are asking all congregants to participate in house meetings (either in person or online) for intentional conversations about how the issues of the past year have affected each of us, and how we might come together to effect change in our community.
Your involvement is key to our campaign if we are going to truly gather stories from a significant representative sample of our Temple Beth El community. Please register here to either attend or host a meeting at your home or via zoom. If you choose to host, we will provide you with all the information you need to do so successfully. If you have been trained, or wish to be trained, to be a facilitator of the meeting, there is an option for that as well. 
Please do not miss out on this opportunity to share your story, your perspective and your experience with the congregation. Register here to indicate how you want to participate.
Rabbi Dusty Klass on behalf of Temple Beth El Clergy
Nicole Sidman, Social Justice Outreach Coordinator
Members of the Temple Beth El 2021 Listening Campaign Core Team*
* Sandy Altschuler, Jill Blumenthal, Rebecca Drechsel, Noah Granade, Betsy House, Matt Kelly, Ruth Pordes, Stephanie Starr