My days are surrounded by sounds. The rhythmic beeping of machines, the puff-and-blow of ventilators, and the urgent ringing of alarms. I am a trauma nurse, and I have the privilege of helping people fight for their lives. I live in the liminal space between death and recovery.
My days are surrounded by sounds: squeaking wheels as patients drag their IV poles around, walking their first steps in days or weeks. Hoarse first words, after days of fighting to get a breathing tube out. Words like thank you and miracle.
I get asked, often, how I handle the things I see and experience at work. The truth is that I consider myself extraordinarily lucky. I may help others heal, but it is through their victories and their defeats that I know my God. Every interaction I have at work allows me to see the divine in my fellow human.  Judaism gives me the framework needed to comprehend the vast amount of human triumph and suffering that occurs daily at my job. It gives me the prayers to use to praise God for healing the seemingly gone, and the prayers to reconcile the devastating losses.
I bear witness to the infinite wisdom with which our God made us. "Blessed are you Lord our God, who forms the body with wisdom."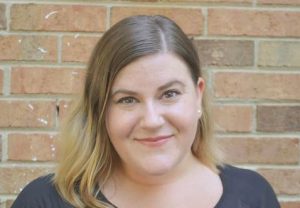 Courtney is a Registered Nurse in the Surgical Trauma ICU at Carolinas Medical Center. She was grew up at Temple Beth El and enjoys Torah study and singing with the High Holy Days choir.