My triplet boys weren't due until late September, but in early May 2007, I went into labor. I was only 20 weeks pregnant, and the prognosis was grim.
Viability is 24 weeks, and even if we made it a few weeks past then, chances of long term complications were high. I laid in the hospital on complete bed-pan bed rest, like a ticking time bomb. We counted each day that passed as a blessing. When one drug stopped working, doctors tried another, but eventually my body gave out. Zachary, Charlie, and Cooper entered this world at just 24 weeks, 0 days gestation, weighing only 1 pound, 6 ounces each.
In the very crowded, but nearly silent OR, there were no sweet infant cries, no congratulations, no smiles. My husband Brian held my hand as each baby boy was rushed away by teams of doctors and nurses. A few hours later, they wheeled my gurney to the NICU where we first met our children. Their bird-like bodies were tiny and fragile and their eyes were still fused shut. They should have been snug and warm in my belly, but were now struggling to survive in glass boxes, hooked up to all sorts of tubes and wires.
It was about 4 weeks before we could hold any of them. Zach contracted MRSA and was in isolation, which meant we were only allowed to hold him through plastic until he left the NICU after 100 days. Charlie endured countess transfusions, infections and emergency eye surgery. He and Zach came home on heart and breathing monitors. Cooper had the roughest go, battling rounds of infections, undergoing surgeries, including a tracheostomy. He lived in the NICU for 6 months, came home with a trach and required around-the-clock nursing care.
The boys' first few years were a blur of isolation, home health nurses, doctors appointments and early intervention therapies. As we rounded their 2nd birthday, we started to breathe again. Cooper's trach was finally removed and the nurses moved out. The boys were going to be OK and they would have no long term cognitive or medical issues. The trauma they endured was something that would always affect me more than it would ever affect them – which is more than we could ever hope for.
And just as we felt we were starting to have things under control (as "under control" as one has things when chasing 3 crazy toddlers), we found out that – despite my diagnosed infertility –  I was pregnant. With another boy.
The PTSD I suffered during the 2nd pregnancy was a force to be reckoned with, but at the end of December 2010, my fourth miracle — Michael Henry — was born. He was on time, healthy, huge, and above all else, healing.
I didn't realize how broken I was and how much guilt I carried until I held Michael's warm, healthy, perfect body against my skin right after he was born. I didn't let him go for months.
God blessed me with Michael to heal my soul. To hold a newborn baby, to nurse him, to leave the hospital at the same time as him, was healing. I was given the gift of being able to experience motherhood as something so normal, so perfect, so easy and painless.
Michael healed me emotionally and spiritually. I did a lot of praying before and after the triplets were born. I prayed for their survival and I prayed for their healing. I prayed for them. But I didn't think to pray for myself. I didn't realize how much I actually needed to be healed, but God did, and Michael was his gift.
Although I will never understand why bad things happen (and there is nothing I wouldn't give for my boys to have been born healthy), I have come to be grateful for the experience in the perspective it has afforded me and because it has enabled me to take on a role as a healer to other parents, merely by offering support and my story of hope.
These high holy days, "healing" has a different meaning for me now than it did a few short years ago. This year it will mean working on reconnecting with my family — with 3 10-year-olds, a 6-year-old, and a husband all flying in different directions at all times. The opportunity to refocus on each other is what is most important now. I am grateful and blessed beyond words to look forward to this type of healing and to be reminded of how blessed we truly are.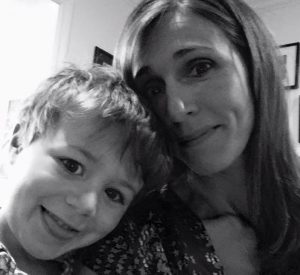 Raizel Kahn is a lawyer turned stay-at-home-mom/cat-herder.