For the past four years, as a Street Outreach Specialist for Urban Ministry Center, I've had the opportunity to work with Charlotte's most vulnerable, often invisible population: those experiencing long-term, unsheltered homelessness. I spend most of my time with those who sleep in encampments in the woods, on park benches, on the streets of Uptown, in their cars and in storage units, in abandoned buildings, or wherever they can lay their heads.
Growing up extremely privileged, I lived in a safe neighborhood and never had to worry about access to my basic needs such as housing, food, and quality healthcare and education – and I took all that for granted. Homelessness was a world away from me. It didn't impact me, and was therefore someone else's problem to fix. I never imagined I would later dedicate my career to helping people experiencing homelessness and never imagined I would find common ground with that population, forming deep, transformational relationships.
In my work, I could choose to judge my clients by some of their life experiences and outward characteristics. Many are chronic inebriates, drug addicts, living with criminal records, and untreated mental illness. I could choose fear, pity, and judgment. However, I have chosen instead to see my clients as people who eat, breathe and sleep like me, and experience the same emotions as me. People who have been through significant trauma, and who have overcome substantial challenges in their lives, many of which they had no control over. People who are doing they best they can to get back on their feet. People who are seeking community, stability, safety, and comfort, just as all of us are. People who are someone's mother, father, brother, sister, son or daughter. Every day, I choose to show them respect, and treat them as if they too are created in the image of God and have the light of God within them.
By choosing the latter, my worldview on homelessness has shifted. I have formed relationships with some of the most resilient, tough, resourceful, kind-hearted individuals I have ever met in my life, who on paper couldn't be any more different from me. I have been able to use my voice to help advocate for one of our community's most marginalized population.
This new year, I challenge you to choose to see the humanity and the light of God in people experiencing homelessness. Go out of your comfort zone to talk to someone different from you and seek common ground. You just may be surprised by how it changes you.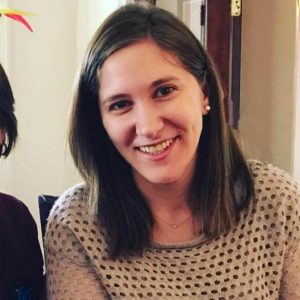 Allison moved to Charlotte four and a half years ago, after pursuing her Master of Social Work degree at UNC Chapel Hill. She works for the newly merged Urban Ministry Center/Men's Shelter of Charlotte and is very involved in Charlotte's young adult Jewish community.